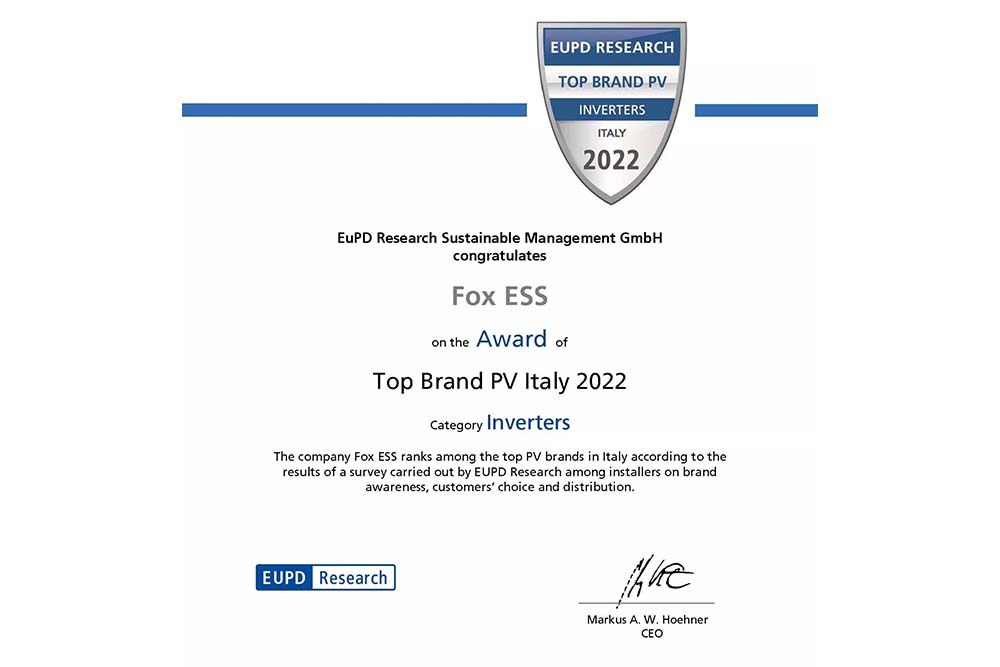 Progressing with honor! Fox won the EUPD "Top Brand PV Inverter" seal.
Fox won the "Top Brand PV Inverter" seal by EUPD research for its excellent quality, professional service and excellent market performance.
As a world-renowned certification body in the solar energy industry, EUPD research has rich industry research experience. The "Top Brand PV" seal of EUPD research is one of the most recognized and prestigious PV awards in the global PV industry. Through in-depth investigation of photovoltaic installation enterprises and end users in different countries and regions, the selection strictly and fairly selects and certifies enterprises that have performed well in many indicators, such as product quality, brand satisfaction, brand loyalty, shipment volume, etc.
Winning the 'Top Brand PV Inverter' seal, on the one hand, is an affirmation of the product quality and technical strength of Fox, on the other hand, it is also a recognition of the brand influence of Fox, which also shows that Fox has excellent performance in the European PV market and has high reliability and credibility in the eyes of customers and installer partners.
Fox works closely with hundreds of distributors, power companies and energy associations across the globe; using market research and customer feedback to create value for users through the development of innovative products, providing advanced renewable energy solutions for global users.